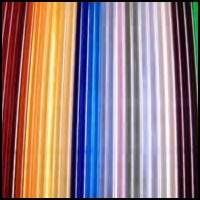 We import our glass rods directly from Murano, Italy. Brand Name - Effetre, COE104
100 grams = +- 5 rods, the average rod Length is 33cm, average diameter 5/6mm, average weight per rod is 19-22grams, unless otherwise specified.
All glass will be sold on a Quotation First basis. Variations will occur because glass rods are sold by weight. We will charge for the actual weight.
When ordering glass rods, select your colours and indicate the qty of 100g units you want, then select Quote First, and we will send you a pro-forma invoice before we finalize the transaction.
You need to process your eft, send us proof of payment from the bank and we'll ship the parcel.